བླ། La: Vital Life Force
Teachings, Meditation, and Practical Instruction with Dr. Nida Chenagtsang and Donla Tsering
This is a replay of live events that took place in Janaury and March of 2021.
This course consists of approximately six hours of video content plus additional resources.
La (Tib: བླ) is our subtle life force, the pure energy of the five elements that circulates within the body according to the lunar cycle. This la energy, closely connected with our consciousness protects and nourishes both the physical body and the mind. La can be compromised due to chronic illness, stress, physical or emotional trauma, or aggressive medical treatments. Traditionally it is said that our la energy can also be 'stolen' by negative influences from the outside. Signs of loss of la energy include lack of strength and stability in the physical body, chronic fatigue, anxiety and depression.
WHAT'S INCLUDED IN THIS COURSE:
Teachings by Dr. Nida Chenagtsang on La  from the medical and Buddhist perspectives
A ritual and guided meditation from the Yuthok Nyinthig long life empowerment performed by Dr. Nida Chenagtsang to hook back lost la from the ten directions and restore vitality.
A three-hour practical workshop on the gentle Tibetan Medical external therapy of La Massage by Donla Tsering
PDF resources to help you locate the la energy in the body and learn the Tibetan syllables used in the practice
Audio files of La Massage chanted by Drukmo Gyal
1

Classroom Etiquette and Technical Requirements

Navigating this Learning Platform (Video)

Navigating this Learning Platform (PDF)

2

Yuthok Nyingthig La Hooking Text (Use password 1014 to open PDF file)

La, Sog, Shé Days of the Week

Pathway of La in the Body

La Massage Chants by Drukmo Gyal

3

Introduction to La བླ་ (Dr. Nida Chenagtsang)

"La Hooking" Meditation (Dr. Nida Chenagtsang)

La Massage Teaching (Donla Tsering)

La Massage: Step by Step Guide
Dr. Nida Chenagtsang is a traditional Tibetan physician and lineage holder of the Yuthok Nyingthig, the unique Vajrayana Buddhist spiritual healing tradition of Tibetan Medicine. Born in Amdo, in North Eastern Tibet, he began his early medical studies at the local Tibetan Medicine hospital and later was awarded scholarship to enter the Lhasa Tibetan Medical University where he completed his medical education in 1996, with practical training at the Tibetan Medicine hospitals in Lhasa and Lhoka. Dr. Nida has published several books and articles on Tibetan medicine, meditation, and yoga, and his extensive research and revival of ancient Tibetan healing methods has earned him great acclaim in both East and West. Founder of the Sowa Rigpa Institute, Dr. Nida trains students in Sowa Rigpa and the Yuthok Nyingthig in over forty countries internationally.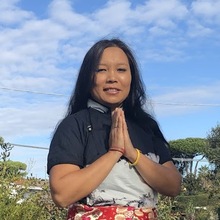 Donla Tsering was born to a Tibetan family in India, and at a young age was entrusted to the care of famous Tibetan scholar and astrologer Ngawang Dakpa. After finishing high school in Delhi, she moved to Italy, where she became a student of Dr. Nida Chenagtsang in 2002 with whom she studied Kunye massage, Tibetan medicine, Mantra Healing, Sa Che and Yuthok Nyingthig. Donla teaches and guides retreats worldwide as a senior instructor for Sorig Khang International.